---
Rasa fennel (adas) sering disebut mirip dengan rasa black licorice.
Sementara tidak semua orang menyukai rasanya, Anda masih bisa mendapatkan semua manfaat fennel (adas) dengan menggunakan fennel essential oil.
Fennel essential oil (minyak esensial/minyak atsiri adas) dikenal sebagai bahan yang mampu meningkatkan kesehatan pencernaan.
Minyak adas diproduksi melalui proses destilasi uap biji tumbuhan adas (Foeniculum vulgare).
Minyak esensial ini menyediakan dukungan fenomenal bagi pencernaan serta membantu Anda menemukan keseimbangan dalam diet.
Selain manfaat untuk pencernaan, fennel oil juga membantu mengurangi kejang usus, mencegah gas dan kembung, memiliki efek memurnikan dan efek detoksifikasi, bersifat ekspektoran, membantu meningkatkan aliran ASI, merupakan pencahar alami dan bahkan penyegar mulut!
Manfaat Fennel Essential Oil
1. Menyembuhkan Luka
Sebuah penelitian di Italia dilakukan untuk menyelidiki pengaruh essential oil terhadap infeksi bakteri, khususnya payudara pada hewan.
Hasil penelitian menunjukkan bahwa fennel essential oil dan cinnamon oil, menunjukkan aktivitas antibakteri.
Lebih jauh, fennel essential oil juga memiliki senyawa tertentu yang membantu melindungi luka dari infeksi.
Selain menjauhkan dari infeksi, minyak esensial ini juga mampu mempercepat penyembuhan luka.
Jadi jika Anda mencari cara menyembuhkan luka, minyak adas bisa menjadi pilihan alami yang sangat baik.
2. Mengurangi dan Mencegah Kejang Usus
Kejang pada usus bisa sangat menyakitkan. Kondisi ini menyebabkan batuk, cegukan, kram di daerah usus dan kejang-kejang.
Fennel essential oil diketahui memiliki efek relaksasi pada tubuh, termasuk berfungsi pada otot-otot di daerah usus.
Relaksasi membuat frekuensi dan derita saat mengalami kejang otot usus bisa sangat dikurangi.
Menurut penelitian yang dilakukan oleh Department of Pediatrics at St. Petersburg Medical Academy of Postdoctoral Education, Rusia, fennel seed oil terbukti mengurangi kejang usus dan meningkatkan pergerakan sel-sel di usus kecil bayi, khususnya bayi yang mengalami kolik.
Penggunaan emulsi fennel oil diketahui menghilangkan kolik, menurut kriteria Wessel, pada 65 persen bayi, dibandingkan pada 23,7 persen bayi pada kelompok kontrol.
Temuan yang dipublikasikan di Alternate Therapies in Health and Medicine, mencatat terdapat perbaikan kolik pada kelompok perlakuan, sehingga disimpulkan fennel seed oil emulsion membantu mengurangi intensitas kolik pada bayi.
3. Mengandung Sifat Antioksidan dan Antimikroba
Fennel essential oil memiliki kandungan senyawa antioksidan tinggi yang sekaligus memiliki sifat antimikroba.
Sebuah studi yang diterbitkan dalam Flavour and Fragrance Journal meneliti aktivitas fennel essential oil.
Hasil analisis menunjukkan terdapat sekitar 23 senyawa yang memiliki kandungan fenolik dan bioflavonoid tinggi.
Hal Ini berarti minyak adas mampu melawan kerusakan akibat radikal bebas dan memiliki aktivitas antimikroba untuk melawan beberapa jenis bakteri dan jamur patogen.
4. Meredakan Gas dan Sembelit
Sementara banyak sayuran dapat menyebabkan kram perut, gas dan perut kembung, terutama ketika dimakan mentah, fennel oil essential oil memiliki fungsi sebaliknya.
Fennel essential oil dapat digunakan untuk membersihkan perut, meringankan sembelit, serta menyingkirkan gas dan kembung.
Lebih jauh, minyak adas membantu menghilangkan pembentukan gas lebih lanjut.
Jika Anda memiliki masalah gas kronis, fennel oil mungkin bisa memberikan bantuan.
Anda dapat menambahkan satu atau dua tetes minyak esensial adas pada teh untuk meringankan gas dan ketidaknyamanan pada perut.
disadur:https://www.atsirich.com/558/6-manfaat-efek-samping-fennel-essential-oil-minyak-adas/
---
Use fennel oil for enhancing your beauty
If you are looking for an effective beauty aid, all you have to do is reach for a bottle of fennel seed oil. Read on to know more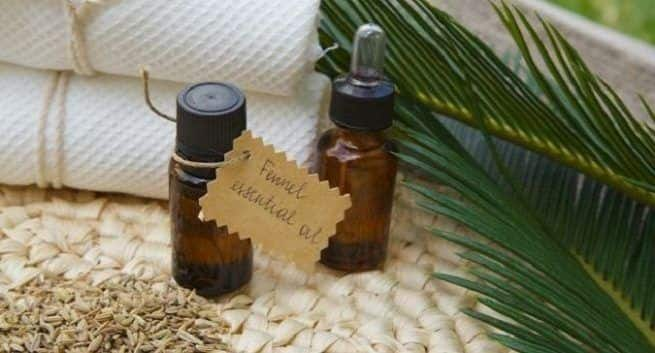 Due to its antimicrobial properties, fennel seed oil is just perfect for your skin. © Shutterstock