Butuh produk skin care untuk merawat kulit dari jerawat hingga menyembuhkan bekas luka dan gosong terbakar matahari? Kamu bisa coba minyak tamanu atau tamanu oil. Berasal dari ekstrak kacang dari pohon tamanu (Calophyllum inophyllum), minyak ini menyimpan berbagai manfaat untuk kulitmu.Tamanu oil diyakini memiliki khasiat antibakteri dan antiinflamasi yang berguna untuk menambah kecantikan kulit. Minyak ini juga dikatakan dapat memicu produksi kolagen, sehingga bisa mencegah penuaan dini. Selain itu, minyak ini juga bisa menyehatkan rambut.Tertarik? Inilah beberapa manfaat tamanu oil untuk kesehatan kulit dan rambut!
1. Menyembuhkan jerawat
Kabar baik, ternyata tamanu oil bisa bikin jerawat kabur! Menurut sebuah studi gabungan di Prancis dan Fiji yang dimuat dalam jurnal PLOS One tahun 2015, kandungan antibakteri dan sifat regeneratif tamanu oil dapat mengusir bakteri jerawat, termasuk Propionibacterium acnes (P. acnes) dan Propionibacterium granulosum (P. granulosum).
Mendukung penelitian tersebut, sebuah studi tahun 2019 di Malaysia pun menunjukkan bahwa tamanu oil dapat menghilangkan bakteri P. acnes dan P. granulosum yang menjadi penyebab jerawat yang meradang. Dengan kata lain, tamanu oil bisa mencegah jerawat juga!
2. Tamanu oil menyembuhkan kutu air
Selain jerawat di wajah, tamanu oil juga bisa dimanfaatkan untuk menyembuhkan kutu air, yang juga dikenal sebagai tinea pedis atau athlete's foot. Kutu air biasa disebabkan oleh infeksi jamur yang memengaruhi kulit kaki.
Manfaat tersebut dikonfirmasi lewat studi di India yang dimuat dalam Industrial Crops and Products tahun 2017. Tamanu oil disebutkan dapat menjadi obat efektif untuk menyembuhkan kutu air, karena memiliki senyawa yang mencegah infeksi jamur.
3. Mengatasi eksem
Selain jerawat dan kutu air, tamanu oil juga dapat mengatasi eksem. Sudah diteliti bertahun-tahun, ini karena minyak tamanu memiliki khasiat antiinflamasi.
Sebuah penelitian gabungan di Vietnam dan Jepang yang dimuat dalam jurnal PLOS One tahun 2017 menyatakan bahwa minyak tamanu memiliki kandungan calophyllolide untuk menyembuhkan inflamasi kulit, salah satunya eksem.
4. Mengencangkan dan melembapkan kulit serta menghilangkan bintik hitam
Minyak tamanu kemungkinan besar dapat mencegah penuaan dini. Minyak ini kaya akan asam lemak yang dapat menjaga kelembapan kulit, serta antioksidan untuk menangkal kerusakan kulit akibat radikal bebas. Selain itu, minyak ini juga dapat meningkatkan produksi kolagen dan glikosaminoglikan (GAG).
Tak hanya itu, tamanu oil dapat mencegah kerutan akibat paparan sinar ultraviolet (UV). Ini dibuktikan lewat studi in-vitro tahun 2009. Minyak ini mampu menyerap sinar UV dan mencegah kerusakan DNA kulit akibat radiasi UV hingga 85 persen.
Meski belum ada bukti ilmiahnya, tetapi banyak pengguna yang meyakini bahwa tamanu oil juga dapat membantu menyamarkan flek hitam. Selain flek hitam, minyak ini juga bisa melembapkan kulit kering berkat kandungan asam lemak yang tinggi.
5. Menyembuhkan gigitan serangga
Digigit serangga bisa bikin kulit meradang. Oleh karena tamanu oil memiliki khasiat antioksidan dan antiinflamasi, orang-orang pun mengandalkan tamanu oil untuk menyembuhkan gigitan serangga.
Meskipun terbukti memiliki khasiat tersebut, tetapi belum ada penelitian ilmiah yang mendalam tentang efeknya pada luka gigitan serangga.
6. Bantu menghilangkan bekas jerawat, bekas luka, hingga stretch marks
Seperti yang dikatakan sebelumnya, tamanu oil dapat memicu produksi kolagen dan GAG pada kulit. Hal ini dapat mempercepat penyembuhan luka dan regenerasi kulit.
Selain itu, tamanu oil juga kaya akan antioksidan, sehingga bisa menyembuhkan berbagai bekas luka, dari jerawat hingga stretch mark yang muncul setelah persalinan atau akibat faktor lain. Memang, riset ilmiahnya masih minim, tetapi bukan alasan bagimu untuk paranoid.
7. Tamanu oil untuk menyembuhkan luka bakar dan terbakar matahari
Selain kondisi kulit di atas, minyak tamanu juga bisa mengobati luka bakar dan mengatasi kulit yang terbakar sinar matahari alias sunburn. Ini karena adanya sifat regeneratif dan senyawa antibakteri dari minyak tamanu.
Meskipun penelitian jelas menunjukkan khasiat penyembuhan dan antibakteri pada tamanu oil, belum ada pemahaman yang jelas tentang efeknya pada luka bakar. Jadi, bila kamu mengalami luka bakar, apalagi yang parah, segera cari bantuan medis.
8. Menyehatkan rambut dan menyembuhkan ingrown hair
Selain kulit, tamanu oil juga menyehatkan rambut. Walau belum ada penelitian mendalam, tetapi minyak ini digadang-gadang bekerja layaknya pelembap. Oleh karena itu, tamanu oil kemungkinan dapat mencegah atau memperlambat kerontokan rambut.
Kemudian, minyak ini juga bisa membantu mengatasi ingrown hair atau rambut yang tumbuh ke dalam. Ingrown hair memang bisa bikin radang dan iritasi kulit. Dengan kandungan antiinflamasi, tamanu oil dapat menanganinya. Meskipun tak ada penelitian terhadap manfaat ini, tetapi kamu bisa mencobanya.
Efek samping dari tamanu oil yang perlu diwaspadai
Tamanu oil biasanya dipakai dengan dioleskan di kulit, bukan diminun, ditelan, atau mengenai mata. Selain itu, kamu juga tidak disarankan untuk mengoleskan kulit ini di luka yang terbuka.
Menurut keterangan dari Badan Pengawas dan Makanan Amerika Serikat (FDA), tamanu oil dikelompokkan ke dalam "suplemen kesehatan". Dengan kata lain, tamanu oil tidak dipandang sebagai obat untuk mengobati, apalagi menyembuhkan penyakit. Malah, FDA mengancam akan menuntut perusahaan yang mempromosikan tamanu oil sebagai obat kulit.
Selain itu, beberapa penelitian menunjukkan bahwa tidak semua orang cocok dengan tamanu oil apalagi jika ada alergi. Jika kamu alergi kacang, baiknya hindari minyak ini.
Alternatif untuk tamanu oil
Kalau kamu alergi kacang dan ingin mengganti pencari minyak pengganti tamanu oil, maka kamu bisa mempertimbangkan menggunakan minyak-minyak esensial berikut:
Minyak pohon teh: memiliki khasiat antiinflamasi dan antibakteri, efektif untuk mengobati luka ringan, gatal, dan kondisi kulit, seperti eksem serta jerawat.
Minyak argan atau minyak Maroko: menawarkan manfaat yang sama dengan tamanu oil, termasuk penyembuhan luka, efek anti-aging, perawatan jerawat, dan perlindungan terhadap radiasi UV. Minyak argan juga efektif untuk kulit dan rambut.
Minyak jarak: memiliki khasiat antijamur, antibakteri, dan antiinflamasi yang dapat membantu mengobati infeksi jamur (seperti kutu air), iritasi kulit ringan, serta luka ringan dan lecet. Minyak jarak juga melembapkan rambut dan kulit.
Pilihlah minyak yang sesuai dengan kebutuhanmu. Sebelum digunakan, baca petunjuk pemakaiannya karena beberapa minyak tersebut harus diencerkan dengan minyak lain. Kalau tidak, bisa iritasi!
Itulah beberapa manfaat tamanu oil untuk kesehatan kulit dan rambut. Ingat, minyak ini bukan obat. Bila kamu mengalami masalah kulit dan rambut yang kronis atau cukup serius, baiknya konsultasikan ke dokter agar mendapat perawatan yang tepat.
Disadur :https://www.idntimes.com/health/medical/alfonsus-adi-putra-alfonsus/manfaat-tamanu-oil-untuk-kesehatan-kulit-dan-rambut/10
---
Benefits of Tamanu Oil for Skin
TEMPO.CO, Jakarta – Many natural oils can be used for skin care, such as rosehip oil, jojoba oil, and the recently popular tamanu oil. This powerful oil is extracted from the fruit kernel of the tamanu nut tree (Calophyllum inophyllum), locally known nyamplung.
It has been used for centuries as a traditional medicine in various regions of the world, from Asia to the Pacific islands. Besides its popularity in the skincare world, considerable studies reveal that the dark green color oil also has the potential to prevent tumor growth and tackle the vaginal infection.
The following are six benefits of tamanu oil for skin when applied topically:
Treat acne
Having a strong, woody scent, the oil has antibacterial properties against bacterial strains in acne, namely Propionibacterium acnes and Propionibacterium granulosum. It also has anti-inflammatory effects to treat inflamed acne.
Get rid of acne scar
Tamanu oil is helpful to stimulate skin regeneration and heal wounds. It promotes cell proliferation, collagen, and glycosaminoglycan (GAG) that are necessary to heal scars. Its powerful antioxidants play a vital role to cover acne scar as well.
Reduce wrinkles
A variety of skincare products contain tamanu oil as its active ingredient, including anti-aging ones, as it is rich in fatty acid. Its ability to boost collagen and GAG production can also prevent premature aging. The oil also acts as a UV-light barrier, protecting the skin from damages caused by radiation.
Moisturizing skin
Due to its richness in fatty acids, the oil locks moisture in the skin. However, this claim requires deeper studies. People can also apply tamanu oil on cracked knuckles or any other place that needs extra care.
Ease Eczema
The oil is touted as a remedy for skin conditions, including eczema for its anti-inflammatory properties. However, more researches on this specific benefit are needed, and the use must be discussed with doctors.
Heal and reduce scar
Studies find tamanu oil can help rejuvenate wounded skin, reduce inflammation, and promote collagen production. A study in 2016 even showed that it can treat post-surgical wounds.
Despite many claims of its benefits for skin, the oil may trigger allergic reactions in some people. Those allergic to tree nuts, such as almond, hazelnut, and walnut, should avoid tamanu oil.
disadur : https://en.tempo.co/read/1380681/benefits-of-tamanu-oil-for-skin
---
Tamanu Oil Benefits for Hair | How to Grow Moana Hair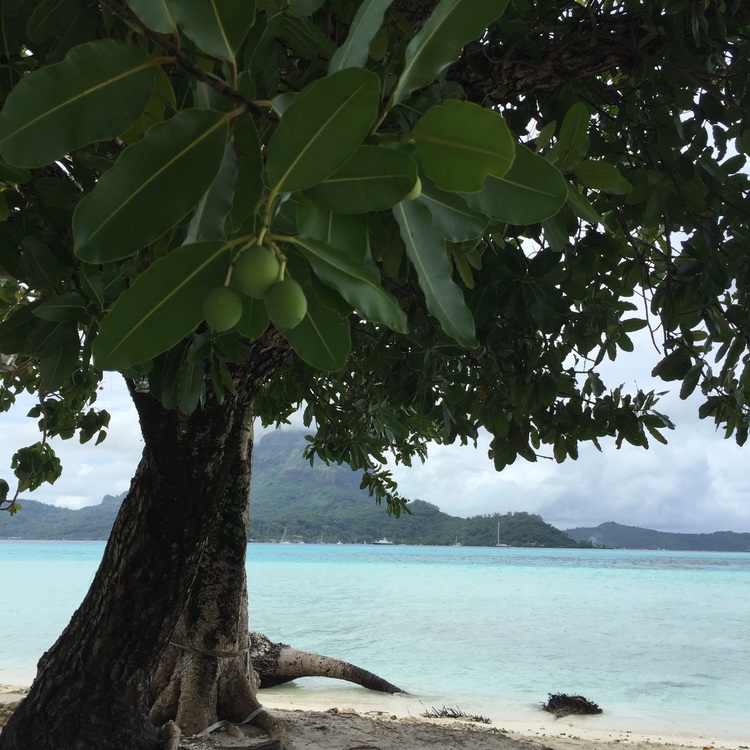 Have you heard of tamanu oil? It's an exotic oil that you simply must get your hands on, especially if you want to flaunt beautiful hair! Tamanu oil is native to Polynesia and East Asia. Native Tahitians used it for various purposes including skin and hair care.
If you've watched Moana, you must have noticed how gorgeous her hair is?! I know, she's just a fictional character but Hawaiian women truly have beautiful shiny and long locks of hair. Much of it is because of their genes of course, but they also care for their hair using natural ingredients like tamanu oil! Anyone's hair can grow if treated with lots of care and love. And what better way to show your hair some TLC than using natural oils?!
Tamanu oil was discovered by the Native Tahitians. They found out that the strange looking tree that grew near the ocean had fruits which contained nuts. When the nuts were dried and pressed, they produced a greenish yellow oil, a.k.a tamanu oil! Did you know that tamanu oil is also called 'green gold'! That makes it even more luxurious!
Let's check out 5 tamanu oil benefits of hair below!
Note: Before using tamanu oil, do a patch test by applying a drop of it on your inner elbow. Wait for 1-2 hours. If there's no sign of irritation then it's safe to use! If you experience irritation, then do not use the oil.
5 Tamanu Oil Benefits for Hair
1. Promotes Hair Growth
What makes tamanu oil good for hair growth is its powerful nutrient content. Tamanu oil is rich in nutrients like linoleic, oleic, palmitic and stearic acids that deeply nourish the hair follicles and contribute to faster hair growth. Make a tamanu oil hair growth serum as follows:
This is your powerful hair growth serum that you can use as an overnight treatment, moisturizer, daily hair growth oil or weekly hair mask for growth!
2. Fights Scalp Fungal Infections
Tamanu oil is amazing when it comes to fighting off fungal infections. It can be used to get rid of skin fungal infections, nail fungus and scalp fungal infections! Since dandruff is caused by a fungi called Malasezzia, tamanu oil is also good for treating dandruff! You can apply it directly to the affected areas every night before bed, then wash it out in the morning. Or, mix it with other anti-fungal substances for a more powerful fungus-killer:
♥ Fungus-Fighter: To 1 tbsp of tamanu oil, add 3 drops of thyme oil and 3 drops of cedarwood oil. Mix together and apply all over your scalp. Let it sit for 1-2 hours with your hair in a shower cap, then wash it out well with a natural anti-fungal shampoo.
3. Seals Moisture
If you have thirsty locks, tamanu oil can be your miracle moisturizer. All you need to add is add a couple of drops of tamanu oil to your shampoo/conditioner. It works wonders in moisturizing and conditioning hair! You can also rub a few drops of tamanu oil on hair that's freshly washed. That'll seal in much-needed moisture into dehydrated hair!
4. Restores Hair Shine
Shiny hair is attractive, isn't it! Instead of using pricey hair serums that contain a slew of unnecessary chemicals, try all-natural tamanu oil instead! Tamanu oil gives hair a beautiful natural sheen when used! The best way to use it for hair shine is apply a few drops of it on your hair right before a shower.
5. Soothes Scalp Inflammation
Tamanu oil has strong anti-inflammatory properties. So if you suffer from scalp inflammation, which is characterized by a painful, itchy and red scalp, then tamanu oil will help! Conditions like scalp eczema and scalp psoriasis also greatly benefit from tamanu oil's anti-inflammatory properties!
♥ Soothing Scalp Blend: Apply tamanu oil directly onto your scalp to soothe scalp inflammation. But my favorite way to combat scalp inflammation is by mixing in a few cooling essential oils: To 1 ½ tbsp of tamanu oil, add 4 drops of peppermint oil. Now gently apply onto your whole scalp for a cooling relief! Wash it off your hair after an hour.
Where to Buy Tamanu Oil
Always look for 100% pure high quality tamanu oil without additives. My recommended brand of tamanu oil is Majestic Pure's 100% Pure & Natural Extra Virgin Tamanu Oil. It comes in a 4 fl oz amber dropper bottle. Majestic Pure is a trusted brand that you can safely use!
disadur : https://beautymunsta.com/tamanu-oil-benefits-for-hair-grow-moana-hair/
---
Note : SELALU READY STOCK
Order Grosir / Eceran Telepon : +62 361 – 8944047
TOKO ONLINE kami: