Cacao butter has massive benefits when you eat it and when you apply it to your skin. You might know of it as chocolate, but cacao is a less processed form that does not use high heat, leaving the superfood qualities intact. It's nourishing inside and out. It's full of healthy fats, nutrients, antioxidants and helps balance mood regulating hormones.
Cacao butter is one of many ways the cacao bean can be processed. Unlike cocoa butter that is heated, cacao butter is the raw, cold pressed oil of the cacao bean that preserves more of the nutrients and enzymes. That gives cacao butter a superfood punch that makes it far superior to cocoa butter.
6 Things We Like About Cacao Butter
1) It's a healthy fat.
This 100% vegan fat is a great addition for those who are on a plant-based diet or who are trying to get more healthy, saturated fats in their diet. Its full of fatty acids like oleic acid, palmitic acid, and stearic acid that are antioxidants that fight free radicals. These antioxidants also ensure a long shelf life.
2) Cacao butter makes us happy.
It boosts neurotransmitters and balances hormones. When you are PMS-ing, your dopamine and serotonin levels will drop. Your body doesn't like that and knows when to call for help. That's why you crave chocolate.
A nice cacao butter massage is another way to release that feel good hormone serotonin. Cacao is one of those amazing superfoods that is good for a woman's hormones, inside and out. So, men, grab that cacao butter to give the woman in your life a massage. She will thank you and you will thank us.
3) Helps you age well.
It's packed with polyphenols. These antioxidants help you age well by fighting free radicals and by reducing the appearance of aging. Your cacao butter's polyphenols can work on the inside when you eat it or on the outside when delivered as a cacao butter lotion. Polyphenols can help with skin tone, elasticity and collagen production while making you look and feel younger.
 4) Increases Immunity.
Those polyphenols also help the immune system fight free radicals and reduce inflammation. Inflammation is the key cause to the majority of illnesses. Reducing inflammation and fighting free radicals prevents illness from becoming damaging disease.
5) Get rid of stretch marks and scars.
The qualities that help us age well can also help us heal. Cacao butter is nourishing, hydrating and full of antioxidants that can help regenerate the skin.
6) Revs up the metabolism.
The good fats, hormone regulating properties and magnesium of cacao butter contribute to make it a food that will prime the pump. This food is going to help with metabolism and relieve constipation.
Cacao Butter Superfood
Cacao butter really is a superfood whether you eat it or apply it to your skin. Make sure you are getting the good stuff though. The pure, cold processed chocolate will retain more of the vitamins, nutrients and antioxidants that make this food super. Do your research or check out our favorite. If you want to learn more about the benefits of cacao check our article on chocolate– the good chocolate.  Enjoy all the amazing qualities of cacao butter for you, inside and out.
Learn more about cacao in this Quick Tip!
disadur :https://www.thewellnessway.com/cacao-butter-superfood/
---
HOW TO USE CACAO BUTTER, THE KETO-FRIENDLY FAT YOUR DIET NEEDS
Cacao butter is a smooth and silky fat source derived from cold-pressed cacao beans.
This dairy-free butter makes the perfect ketogenic fat source, since it contains antioxidants, saturated fats and disease-fighting compounds.
Use it to add rich chocolatey flavor and aroma to recipes—including Bulletproof Coffee.
Whether or not you've heard of cacao butter, you've probably tasted it (or rubbed it on your skin). This keto-friendly butter rarely plays a starring role in recipes, but works in the background to add creamy mouthfeel, fragrance and smoothness to your favorite food and body products. But what makes this carb-free butter so special?
In addition to its rich taste, cacao butter is loaded with antioxidants, flavanols and saturated fats that can help support a healthy inflammation response. Read on to discover why it makes everything so much better—plus how to use it for maximum impact in your diet.
WHAT IS CACAO BUTTER?
Cacao butter is a byproduct of processed raw cacao beans. These beans also produce cacao powder and cacao nibs, but the butter specifically comes from the cold-pressed oils in the beans. Cacao butter and cocoa butter keep candy bars perfectly melty, add smoothness and shelf life to skin care products and give recipes a deliciously mild chocolate flavor.
Unlike conventional grass-fed butter, this butter is completely dairy-free and considered a vegetable fat. While other vegetable-based oils (such as hydrogenated oils) contain inflammatory damaged fats, cacao butter is loaded with natural, stable saturated fats that may help support a healthy inflammation response.
Best of all, this butter delivers a rich, chocolatey flavor with no added sugar and fewer stimulating effects compared to cacao powder—making it the perfect keto-friendly fat to use wherever you'd find conventional chocolate.
CACAO BUTTER VERSUS COCOA BUTTER: WHAT'S THE DIFFERENCE?
Cocoa butter and cacao butter share a similar flavor and texture, but cacao butter retains more quality fats, nutrients and chocolatey aroma. Here's why:
During cocoa butter rendering, the cocoa beans roast in a hot room while the butter drips off separately. Raw cacao butter slows down the rendering process and cold presses beans so that the fats still get extracted, but temperatures remain below 115° Fahrenheit. Both processes produce edible, shelf-stable fats that you can use for cooking and beauty products.
Conventional cocoa butter is ideal if you only use it for cosmetic purposes. Choose raw cacao butter for cooking, though, since it delivers more flavor and nutrient-rich fats.
CACAO BUTTER NUTRITION AND HEALTH BENEFITS
It's called butter for a reason: Cacao butter is made entirely of powerful fats. Most of these fats are saturated, but this butter also contains monounsaturated fats such as oleic acid (which is found in olive oil) and palmitoleic acid (found in macadamia nuts). In addition to these quality fats, cacao butter also retains some antioxidants from cacao beans.
Cacao butter shares many health benefits with dark chocolate. Since processed chocolate bars contain cacao butter or cocoa butter, research supporting its nutritional benefits tends to focus on chocolate consumption. Studies link chocolate intake with supporting a healthy inflammation response.[1] Based on such promising research, this is one fat worth including in a ketogenic diet.
Related: Is Fat Good For You? Everything You Need to Know About Dietary Fats
HOW TO USE CACAO BUTTER
Like most fats, you wouldn't want to eat cacao butter straight from the bag. Instead, use it to enhance recipes to deepen their chocolatey flavor and aroma.
1. ADD IT TO BULLETPROOF COFFEE
Cacao butter can't replace all the benefits of grass-fed butter in Bulletproof Coffee, but it makes a delicious enhancement. Add up to a tablespoon and blend alongside your butter and Brain Octane C8 MCT oil.
Get everything you need to make Bulletproof Coffee at home with a Bulletproof Coffee Kit.
2. MAKE RICH SUGAR-FREE CHOCOLATES
Cacao butter and cacao powder combine to create store brands of chocolate. Make your own sugar-free recipe packed with quality fats and sweetness.
3. ADD WHITE CHOCOLATE FLAVOR TO DESSERTS
Since conventional white chocolate mostly contains cacao butter and sweeteners, you can easily incorporate cacao butter into a white chocolate alternative in your own favorite recipes. Try it in this keto-friendly white chocolate and raspberry cake.
4. SUPERCHARGE YOUR SMOOTHIES
Add an easy dose of fat and flavor to cold blended drinks: Just add a tablespoon or two of cacao butter to your blender. Try it in this luscious Chocolate Mint Avocado Mmoothie.
5. GIVE ICE CREAM A CHOCOLATEY UPGRADE
This butter gives keto ice cream a rich flavor and smooth texture, all with no added junk. Try it in chocolate or vanilla ice cream recipes—and even fudge pops.
HOW TO CHOOSE THE BEST CACAO BUTTER
Get it raw: Not all cacao butter is created equal. To get the full benefits of its quality fats and chocolatey flavor, choose raw cacao butter over heat-treated cocoa butter.
Watch for mold: Look for butter with a clean, chocolatey aroma—not rancid.
Avoid fillers: Some "chocolate-flavored" products do not contain 100% cacao butter, and replace it with coconut or palm oils. Read your chocolate labels carefully (or just make your own chocolate) to ensure you get the real deal.
sadur:https://www.bulletproof.com/diet/superfoods/cacao-butter/
---
The Unexpected Benefits Of Cacao Butter In Coffee
If you are looking for small healthy changes you can make each day adding cacao butter to your diet is a great option. While cacao butter will add a creamy texture to your cup of coffee and a light chocolate flavor there are also several great and unexpected benefits of adding cacao butter to your coffee.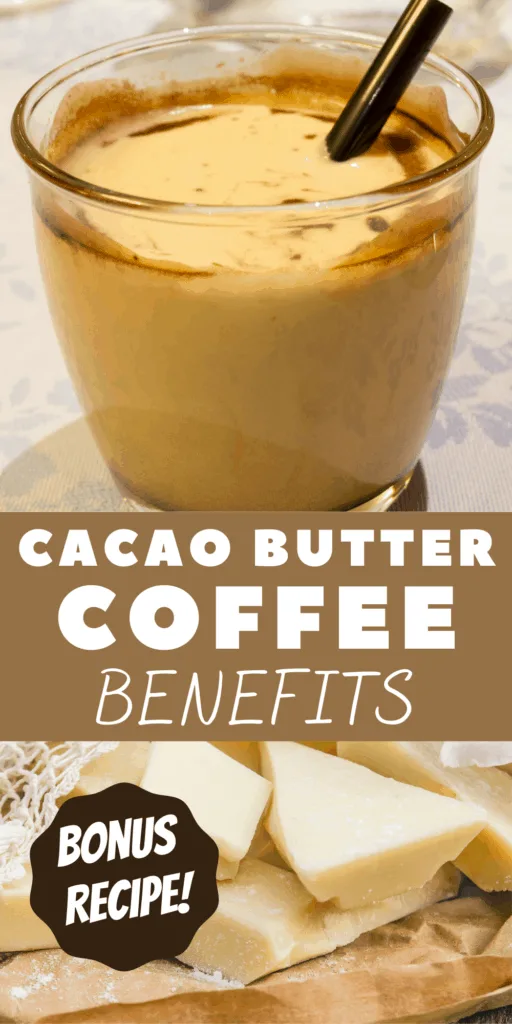 What Is Cacao Butter?
Cacao butter is a healthy fat made from cocoa beans much like cocoa butter. The major difference is how the two fats are processed. Cacao butter is created by processing cocoa beans low and slow not exceeding 115 degrees Fahrenheit.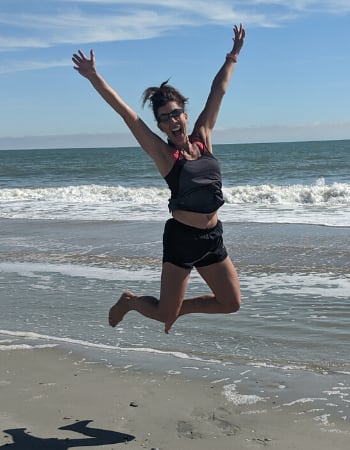 Stay in the KNOW!
I lost over 35 lbs AFTER 40! Get all our healthy recipes and weight loss tips straight to your inbox plus a BONUS download in your first email!
This process creates an uncooked raw version of cocoa butter with the same cocoa flavor. Cacao butter is considered a vegetable fat used for body products and cooking. Cacao butter is a healthy plant-based fat perfect for feeding your body the necessary fats it needs to thrive.
Is raw cacao butter good for you?
While you may have heard of it from being on an ketogenic diet, even those not looking for a keto coffee can benefit.
Raw cacao butter is great for the human body. When we cook saturated fats we break them down changing their overall makeup and the quality of fat we ingest is important. By using cacao butter rather than cooked cocoa butter you are providing yourself with the original source of fat unaltered and still packed with nutrients.
Along with providing you with plenty of healthy fats, cacao butter is packed with essential minerals and has proven health benefits such as:
Improving blood sugar levels
Improving bone health
Boosts your immune system
Cacao butter versus cocoa butter: What's the difference?
Cacao butter and cocoa butter come from the same cocoa beans. The difference between the two products is how the product is derived from the cocoa beans.
Cocoa butter is made by roasting and pressing the fats from cocoa beans. The high heat process is done quickly and the remaining parts of the bean are ground into cocoa powder.
Cacao is made through a similar process that uses a lower range of heat to help preserve the raw oils in the cocoa beans rather than cooking the oils. This leaves you with a raw unaltered fat that holds well at room temperature perfect for body products and low-temperature recipes.
Does cacao butter go bad?
Cacao is a stable chain fat that can last for 3 to 5 years on the shell without going rancid. This is an important distinction as some plant-based fats can turn rancid rather easily when left to sit for long periods of time. If your cacao butter has gone bad it will hold an unpleasant odor when you open the container. Over time you may notice changes in the texture of your cacao butter, but this is a sign of fluctuating temperatures, not reduced quality. Natural cacao butter has a varying texture that is not uniform.
Does cacao butter need to be refrigerated?
Cacao butter does not need to be refrigerated. When storing your cacao butter in a cool dark spot away from direct sunlight for the longest shelf life. While your cacao butter will arrive wrapped in plastic or in a plastic bag you should move it to an air-tight glass jar for the longest shelf life of your cacao butter.
Is Cacao butter Keto approved?
If you are on the keto diet, finding variety or a plant-based alternative to the often used butter can be a bit of a challenge. The good news is that cacao butter is pure healthy fat from the cocoa bean and the perfect addition to any keto diet. To fuel, your energy on keto you need to add in extra fats and cacao can help you do that while giving a subdued coca flavor that can be satisfying along with plenty of vitamins and minerals.
What Are The Benefits Of Raw Cacao Butter?
Reduce heart disease
Cacao butter is packed with healthy fats that help the body properly metabolize fat and help to protect against heart disease. Often people forget the true value of healthy fats for the overall function of the body and spend too much time trying to avoid all fats. One of the fats in cacao butter that are so good for the heart is Oleic Acid found in healthy fat sources like avocados, olive oil, and eggs.
Lower blood sugar levels
Studies have shown that people that regularly eat chocolate, which contains cacao butter can lower the risk of diabetes by as much as 34%. Studies have proven that healthy fats help to naturally lower blood sugar levels by boosting the metabolism helping to fight insulin resistance issues often leading to weight loss.
Improve heart health
Stearic Acid is a saturated fatty acid found in cacao butter that has been proven to help lower LDL cholesterol. This helps improve overall heart health while reducing blood pressure.
Cacao butter contains Omega-3 Fatty Acids that have been shown to help control the triglycerides in the body helping to lower blood pressure and improve the function of the heart.
Improve mental health
Often when feeling low or depressed people will often crave chocolate. Likewise, women that ate near their cycles and dealing with hormone fluctuations that mess with their emotions often mention intense cravings for chocolate. This is because the healthy Omega-3 fatty acids in cacao butter found in chocolate have the ability to raise serotonin levels helping to reduce depression and improve overall mood.
Helps with cognitive support
Our brains need fats to fully function. This means if we are eating healthy fats like cacao butter on a daily basis we can help improve and sustain overall brain function. For those at risk of memory issues and cognitive impairment, cacao butter can be a valuable resource for reducing your risk factors and helping your mind stay healthy longer.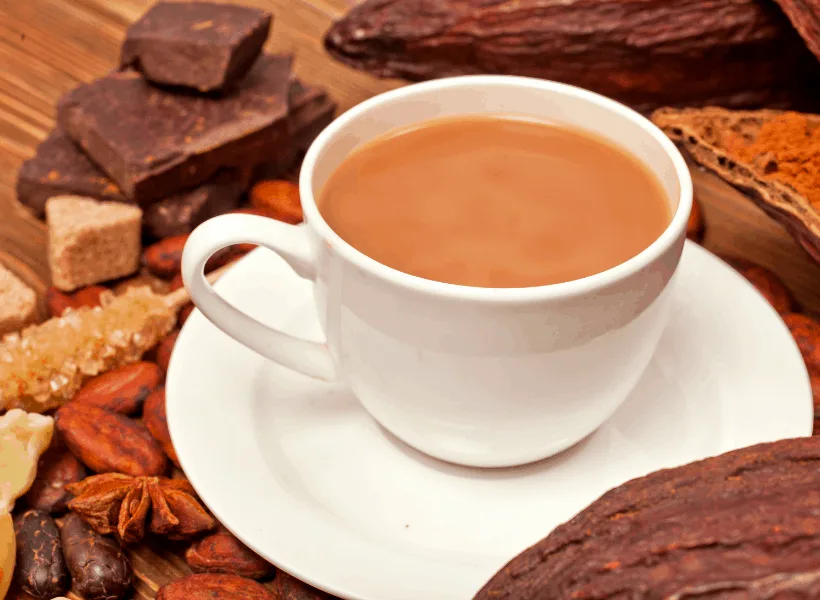 Lower your cancer risk
Studies of those living in the Caribbean region where cacao is grown and consuming a diet high in cacao have shown to have a lower cancer rate than other communities. Studies have shown connections between chocolate and cancer risk. This is likely due to a combination of healthy fats and the large number or antioxidants including vitamin E found in cacao.
How To Use Cacao Butter
Cacao butter is often found in skin care products due to the moisturizing and skin healing fatty acids and vitamin E. The most common place you will find cacao butter outside of quality chocolate will be in skin care products.
Cacao butter is great for cooking due to the high smoke point of this oil. Thanks to the hint of chocolate flavor in cacao butter it is best suited for making your own chocolates and for sweet baking in place of butter or other oils. Cacao butter makes a great dairy-free and vegan butter substitute for baking.
Cacao butter is a popular addition to bulletproof coffee because unlike regular butter it has a slightly sweet chocolate flavor that makes a great addition to coffee.
How To Make Homemade Bulletproof Coffee
Making your own bulletproof coffee is easy. Because water and oil do not mix it is normal to find your cacao butter floats on the top of your coffee. A great way to fight this is to blend your cacao butter into your coffee.
Cacao butter is a great addition to homemade frozen coffee drinks as the cold helps to keep it solid and well mixed. Cacao butter can leave your drink smooth and help you reduce or even eliminate your need for higher carb creamer options in your coffee.
Brew your favorite coffee.
Add in 1 to two tablespoons cacao butter
Add in your desired sweetener
Blend win a personal sized blender or a stick blender until your coffee is smooth and creamy
The Best Cacao Butter To Put In Your Coffee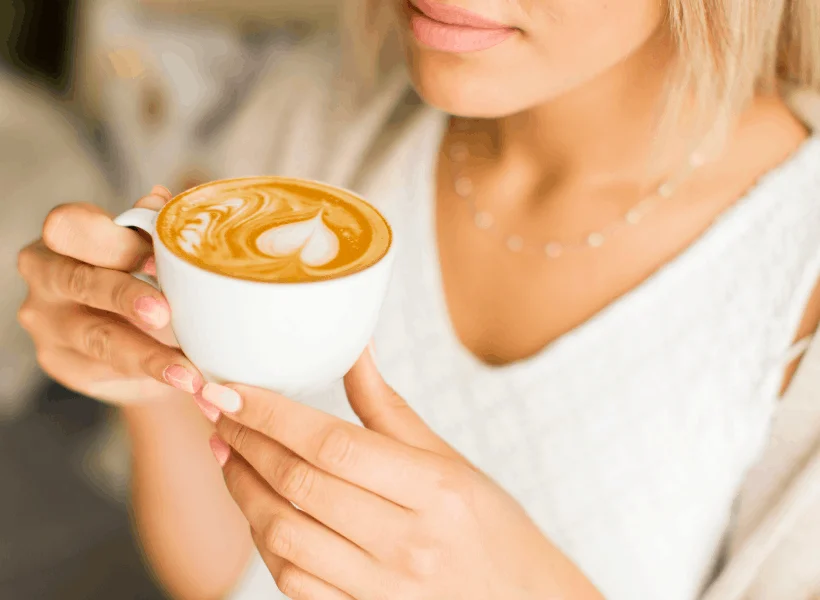 Navitas Organics
Navitias Organics is a wonderful brand providing quality fair trade natural ingredients for your cooking and body care products. Navitias cacao butter is cold-pressed with cacao beans obtained from small family-owned farms in Peru.
Organic Traditions
Organic Traditions is a popular and easy to find brand of cacao butter that is certified organic, gluten-free, and kosher making it a great option for those with dietary concerns that need to have foods that fit a higher standard and are not processed on shared equipment that could become an issue for food allergies.
Wildly Organic
You can find Wildly Organic a small independently owned brand at local sites like Kroger along with several other grocery chains as well as on Amazon Prime if you find yourself in need of a quality organic responsibly sourced cacao butter in a hurry.
Adding Raw Cacao butter to your coffee is the perfect morning pick me up!
When it comes to adding value to your morning routines you can not go wrong with adding more nutritional value to your morning coffee. Adding raw cacao butter to your coffee is a great way to increase your healthy fat intake, improve overall heart health, improving your sugar metabolism, and giving your body an energy boost that is particularly helpful with the Keto diet.